Marketing activity comprises beneficial promotional activities. Advertisement is a key to promotion. A marketer promotes his products or services not just with the objective of showcasing his products, right? But, also with a view to generate revenue. In order to generate revenue there are various parameters one has to look after while making such advertisements. This becomes highly possible when a marketer is making ads on Digital Platforms.
Google Ads is the most used medium for promotions by every organization in the market now-a-days. This activity of making Google Ads is also technically known as SEM i.e. Search Engine Marketing. This is a paid medium of marketing providing expected results making optimum use of the networks and features provided by Google. This is the favorite tool of any marketer for promotions to work with the greater ROI.
The saying that works the most is higher the visibility higher the sales and in turn it generates revenue that one has set as their target.
Google Ads is interesting and easy to create ads with Google's fantastic features to simplify its making. Where you can create your ad account on google just by logging in with your Gmail. It also instructs you at each step what to be done next? moreover it also provides you with 2000 rupees credit in your balance that is Google's mind blowing boost to the marketers community.
Structure of Google Ads
Ad Campaign
Ad Group
Ad
Not only that Google has given a standard limit for certain things which is as follows
How many ad campaigns can be created with one Google Ad Account? – 10000 ads
How many ad groups can be created in an ad campaign? – 20000 ad groups each
How many ads can be created in an ad group? – 50 text ads each
Now while making advertisement one has to consider their product/service and decide upon the objective for which they are making promotions. There are certain businesses that want to be searched, some want to display their ads as a companion ad, some are such that want their apps to be installed, some are such that are creative enough to make video ads which is the most used medium in trend.
Google Ad Networks
Search Network
Display Network
Video Network
Smart Network
App Installations
Discovery Network
Search Network: Search Network is a type of network used to appear in searches more on Google. Search Network is the largest network on Google. This type of ad is seen as a result on search pages popularly known as SERP i.e Search Engine Result Page. Where a viewer puts a search term in the Google tab to find out something. When you see that top most links are having a prefix as Ad. then it is a Google Ad run through Search Network. This type of advertisement is mostly used by today's organizations to increase traffic on their websites and generate leads. This is the most prominent network used by the public at large. It appears in the form of the following image on Google. In this image you can see Search
Term used Digital Marketing Courses in Pune and the link on the top is appearing of Victorious Digital, Pune with a prefix Ad.
Display Network: Display Network ads are best for Branding purpose whereas it can also assist to generate leads. Display Network ads work well for certain kinds of businesses where aggressive branding is the key for example real estate. These ads are shown by google on its partner pages or the websites that have allowed other advertisers to advertise their campaigns on their website are display ads. Display network is slow as compared to other network advertisements because a person is searching for something on google and these ads are appearing just as a banner or so for which one must have searched earlier. A group of more than 2 million websites, videos, and apps where your ads can appear. Display Network sites reach over 90% of Internet users worldwide*. In the following image you can see SBI Life advertisement on OLX website such ad is an example of Display Network Ad.

Video Network: "Video discovery ads" are now known as "in-feed video ads". … In Google Ads, you can create compelling video campaigns with a range of video ad formats to engage customers in different ways on YouTube and across various video partner sites. Available video ad formats include: Skippable in-stream ads. Non-skippable in-stream ads. Google video partners are high-quality publisher websites and mobile apps where you can show your video ads to viewers beyond YouTube. These Video partner publishers are carefully scrutinized to see that they meet Google's inventory quality standards.
Instream Ads: Instream video adverts are those videos which are streamed before, during or at the end of a video a viewer is already viewing. This means that the audience is already captive and receptive to video material. These types of ads are sure to ring a bell for many people. Instream video ads involve standard pre-roll, mid-roll, or post-roll ad placements within your favorite videos. While vulnerable to ad blockers, instream is still the most reliable and frequently used system for placing video ads within a relevant video context. The reason they are so potent is that they manage to get into the thick of the consumer video content. Naturally, you still have to implement an appropriate targeting strategy to make them convert.
Out stream Ads: Out stream video ads appear in non-video environments like social feeds, text-based editorial content, and similar. The way they work is pretty straightforward — a video appears when the user scrolls, so the content opens up and triggers it. Out stream is a somewhat new addition to the world of video, but it has a tremendous advantage since it can deliver video ads anywhere and everywhere. In other words, there are no limits to ad placements like with their instream counterparts! It is also considerably easier to obtain relevant audiences based on surrounding content when using out stream units. (The image below is an example of Smart Network Ad taken from Google Images.)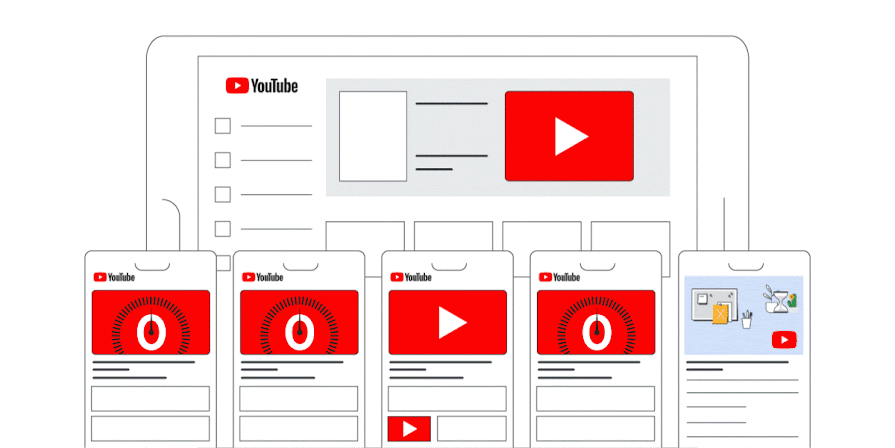 Smart Network: With Smart campaigns, your ads show on Google Search, Maps, YouTube, Gmail, and on other Google partner websites. Search Network and Smart Network acts as the same and appears as the same on Google Ads the added advantage of smart network is that it makes it easy to make an ad on google. It is good for reaching more people who are specifically looking for goods or services similar to what you offer. Ads can include images, and can help you capture someone's attention easily. These types of ads are helpful in building brand awareness by helping people get familiar with who you are and what you do. The more you can get your business in front of masses, the more likely they are to think favorably of you and consider using your business in the future.
App Installations: A company can also promote app installations for its business using Google Ad Campaign. With Google App Campaigns, you can promote your iOS or Android app on Google Search, YouTube, Google Play, etc. As Google is the most used search engine one while making search for specific apps will get users to your app. Google has the ability to optimize your app search by users and promote your app to a large extent where audiences are interested and app installations are more likely to happen. Google gives you the benefit to customize your App Installation ad with catchy headlines and short description also with the action you want google to take care of whether just make as many installations you want it to make and/or also certain in-app action you want google to prompt to users. For now android and ios apps cannot be selected at a time to run the ad so in case the client is having apps for both the OS you will have to make two campaigns. This strategy is also known for having best conversions through Google Ads.
Discovery Network: Discovery ad campaigns enable advertisers to deliver rich, personalized ad experiences to people who are ready to discover and engage with your brand—all through a single Google Ads campaign. You can use Discovery campaigns to help reach up to 3 billion customers across Google feeds to achieve your performance goals in Google Ads. Thanks to Google's audience and customer intent signals, this campaign type helps you deliver highly aesthetic, inspiring personalized ad experiences to people who are ready to discover and engage with your brand—all through a single Google Ads campaign. This type of ad network is a result of an already engaged audience to be converted into final customers of your business depending upon their past actions on your sites i.e meaningful ads are shown to people who are already interested in your business. This is the most attractive way to capture the audience's mind through engaging visuals.
As consumers return over time to find content on the Google feeds that they enjoy, Discovery campaigns give you more opportunities to drive action from people who know your brand best and are most likely to engage with it again and again — whether they've previously made a purchase, engaged with your YouTube channel, or visited your website.
Ad Extensions
Extensions to any element acts as a booster and same applies to Google Ads too. There are various extensions that can be used by the advertiser while creating any type of ad using any given network.
There are various types of Ad Extensions in Google Ads
Sitelink extension: Sitelink extensions add additional links under the main text ad in search. These links direct users to other pages on your site you want them to visit. At a time it displays 4 sitelinks in an ad. This results in increased traffic on your website or a specific webpage you highlight in the ad.
Callout extension: Callout extensions are the exciting details of a specific business, product or service that is been advertised. These are written in maximum 25 characters and can be written 6 per campaign.
Call extension: The call extension is a lifesaver for businesses that want calls from customers as it is most used feature at the time of aggressive marketing. You can put your phone number directly in the ad, so the friction between a lead and your business is basically zero.
Structured Snippet extension: If callout extensions highlight your business's best big-picture elements, structured snippets zoom in on specific perquisites you want users to know about the product or service you offer.
Location extension : A location extension mostly used to provide information regarding your business address, phone number, and map with the ad text. On mobile, you get a link that opens up a map.
App extension : If you offer a mobile app, this Google ad extension is useful. App extensions make your app more visible and make it easy for interested users to download directly from the text ad.
Price extension : They inform users about pricing up front, and an informed user means that when they decide to reach out or show up to your store or website, they're more ready to book an appointment or buy from you. Minimum 3 price extensions are required in the details you also should put the links that are relevant to the price extension.
Promotion extension : The type of extension mostly used by eCommerce portals/websites. Promotion extensions add a visual price tag below your ad and offer specific details about your promotion. You can run them during specific holidays or year-round, the only limitation is that promotion extensions must include a monetary or percent-based discount. Of all Google Ads extensions, promotion extensions give search ads the highest boost in clickthrough rates, on average, and are a simple way to incorporate any promotions you may have into your search ads.
Lead Form extension : Lead form extensions are the newest form of Google Ad extensions most likely used. Like the old message extensions, lead form extensions allow users on the SERPs to contact your business in just a few clicks, directly on your ad. Here viewer does not even require to visit your website infect interested viewer fills up the lead generation form with the details you ask for and you can contact that lead as soon as possible. Currently, you can get information like:
Name
Email
Phone Number
City
ZIP or Postal Code
State / Province
Country
Company Name
Job title
Work email
Work phone number
That's a lot of valuable information, and lead gen companies everywhere should hop on the Lead Form extension train whenever possible.
Affiliate extension : An affiliate refers to an individual or other organization officially connected to another. In this case, you use affiliate location extensions to direct users to other locations that are authorized to sell your product. Affiliate location extensions are best for manufacturers and also in case of franchise. But, it is not applicable in India yet.
In order to become proficient in making Google Ads Certification you need to understand the type of business you are dealing with and which type of network will prove to be more beneficial which you can get to understand by joining Digital Marketing Course in Pune, by Victorious Digital.
We provide so many Digital Marketing Courses Modules in Digital Marketing Classes in Pune. With this Internet Marketing classes Program, candidates will be able to develop comprehensive expertise in all online promotions disciplines.
We Provide Classes to different professionals like managers, marketers, business owners, students, and anyone who wants to master digital media courses. The real value is in learning new skills; along with the chances it will provide to achieve new heights and new prospects