"The Future is Private"
Remarkable statement on onstage at Facebook's F8 Conference by Mark Zuckerberg, CEO of the World's Widest Network says: "The Future is private" a new chapter of his commitment to turn his company around.
"Privacy gives us the freedom to be ourselves".
On the basis of above sayings of Mark Zuckerberg, Facebook Team collaboratively worked in bringing new updates in the existing trio messaging applications (Facebook, Whatsapp, Instagram) with a feature of end-to-end encryption and in building the new applications with a privacy-focused feature with your family, friends and the loved ones. Internet is a way to connect a lot of people around the world.
The massive shift according to Mark Zuckerberg's vision with the biggest transition of News Feeds, ephemeral stories, small groups from public posts to a private corner. Even Zuckerberg says that encryption is going to be one of the key factors for Facebook's future and will get banned in the countries which will decline to operate as a result.
Facebook spent last 2 years involving in miring scandals around data privacy as Facebook doesn't hold the strongest reputation for privacy terms. Keeping in that mind Zuckerberg made a promise for building an end-to-end to breach the reputation built in the past years in the name of privacy.
Six Privacy Principles in the New Chapter of Facebook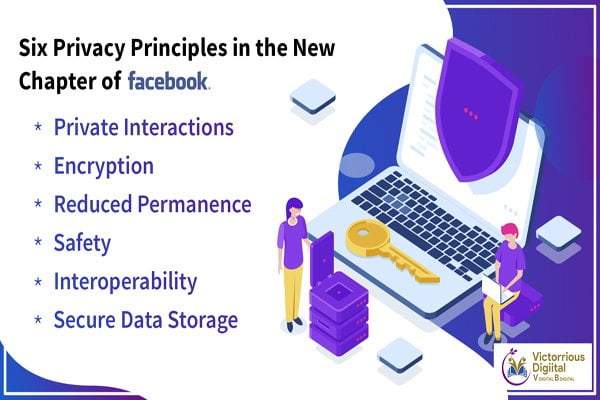 Onstage at F8 Conference, Mark Zuckerberg introduced the new vision, new chapter to their services based on 6 principles based on privacy:
Private Interactions
Encryption
Reduced Permanence
Safety
Interoperability
Secure Data Storage
The nitty-gritty about the 6 principles of Facebook about the privacy policy can be best seen in the various messaging applications of Facebook.
So, Starting with messaging applications:
MESSENGER
Team Facebook commits to make the messenger the fastest private communication application in the entire planet with less battery consumption, less storage and the most reliable than ever before. By Default, all type of communication will be end-to-end encrypted on messenger. It is going to build a closer network to your closest friends, family. Messenger is about to build a second tab in a dedicated place where you can share status, view story and reminisce good memories in the organized manner in a dedicated place. Also, the messenger will allow directly to see a video together in every country on every service with a brand new Messenger Desktop App.
WHATSAPP
Mark Zuckerberg says Whatsapp itself has an incredibly strong privacy feature, therefore, adding the latest room to connect and communicate business and people together with a more powerful tool called Business Product Catalog. Also, they are making this platform so popular and useful to send and receive money for online payments in different countries.
RE-DESIGNING FACEBOOK APP
Mark Zuckerberg and Team built a new vision to see Facebook indifferent in a new way.
He said that "they are looking for a major evolution to re-design a Facebook app to make communities as central as friends".
FB5 is the new design, a new makeover of Facebook in a simple, faster way. Update in the new Facebook logo with some advanced features that are:
A freshly new designed
Evolution starts with a fresh design that is simpler, faster. It already came in the countries like U.S.A and Canada with communities as a center. The new desktop site is coming in a few next months.
It has the ability to spot a news feed from the place you left off. It is coming live with the dark mode to give a rest to your eyes.
Centralized focus on Groups
Over 400 million people are there on groups. Team Facebook has a centralized focus on the groups, communities. A new Group Tab in advance level with a more and new suggestion group to make a new better connection ever before. They are bringing a composer to share a group as you share among friends and family. Groups that are more focused on Health Support Communities, Professional Communities, Gaming Communities, Shopping Communities
Facebook Dating
Facebook Dating something fresh people might have a peculiar interest in. This will provide the people to connect with someone you never knew but want to connect over. You can connect with them with your post, short groups and events. Also, an advantage is of this is that it will only be visible to the people who are on Facebook Dating and this profile will going to be separated from your main profile. It is being introduced in 14+ countries but at the end of the year in the U.S.A
A Secret Crush
Secret Crush magnifying most of the people all over the world because of the feature of some personal interest of people going to love this for.
Taking privacy into the consideration this Secret Crush will allow you to create a private list of the people you are interested in. If the same person on your list put you in their list cheers you both will match. No problem if it doesn't match, because nobody will know whom you put on your private crush list.
Meet New Friends
Meet New Friends will help you to find new friends from the communities you belong with like your schools, colleges, workplace etc. to make a more new strong connection with. Keeping privacy on the list only that people will get connected to you who will be on Meet New Friends app.
INSTAGRAM
Introducing Instagram with a new creative feature within its camera called a "Create Mode" with diverse features to post and share quizzes, stickers, countdowns and other cool features on your story you want or interested in. A bigger idea of introducing Private Like Counts where you'll not see any likes until you'll ask for to see who liked your posts or videos. Building an Instagram with the safety feature on the top line by bringing Common Filters, Nudges, Safety tools, Away Mode to keep yourself away from Instagram on sensitive mode, also bringing limiting mode to keep away the people who are aggressive to you.
NEXT COMPUTING PLATFORM
Team Facebook introducing 1. Spark AR studio supporting both Mac and Android. They are building AR-beta for Instagram because of which everyone can build in it.
Also, introducing 2. Portal internationally by bringing WhatsApp and Messenger together on Portal with a facility of end-to-end encryption for video calls.
3. Oculus Rift S and Oculus Quest are the 2 new products launched by the team based on Artificial Intelligence and Machine learning with no cables and full freedom of movement. It will all be on your headset. It has sensors built in to build an automatical map of your place around. The map is just used for tracking. The sensors used to filter the environment and make a dynamic plain cloud. Your Headset will remember the multiple places which allow you to give that headset to your friend in another room.
Conclusion
This is going to be the new chapter, a new vision in the future forecast according to Mark Zuckerberg that the 'future is really going to be fully private.'
His commitment is an idea to make everyone live freely, and enjoy our private moments which we want to keep safe and want to share among the people we are close to. This is a step ahead to keep us protected both in our living room as well as in the town squares.