"Salesforce: lightening up your business"
Brief about SALESFORCE:
Salesforce is a system tool in the company that helps it to get success ahead by keeping a track report of everyday events in the company. This helps the company to get to know the real capacity of their customers and also helps to build a strong and healthy bond between the members of the firm and clients. The whole concept of Salesforce Classes in Pune and many places is whooping the business market with high speed both inside and outside the country. On average companies using Salesforce have experienced:-
+27% increase in Sales Revenue
+32% increase in Lead Conversion rate
+34% increase in Customer Satisfaction
+56% increase in Deployment rate
Who are the Salesforce Developers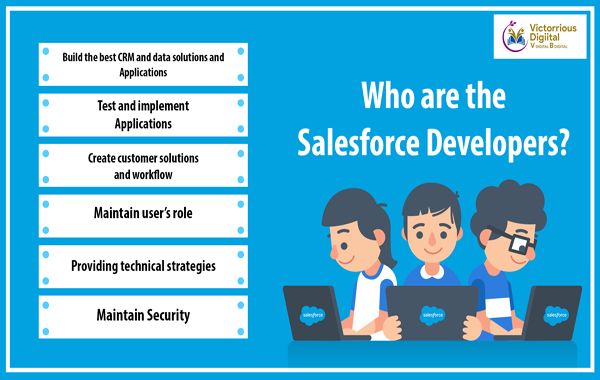 Salesforce Developers are the main business professionals who hold both the skills and knowledge of Salesforce admin and Salesforce developer (with a basic knowledge of the language is good to start with). The one who studies the company's process and builds the Salesforce applications across the various PaaS platforms and functionality including Apex (similar to JAVA) or Visualforce pages (similar to HTML) as per the requirements of the users. Their responsibilities include:-
Build the best CRM and data solutions and Applications
Test and implement Applications
Create customer solutions and workflow
Maintain user's role
Providing technical strategies
Maintain Security
Career growth in Salesforce Developer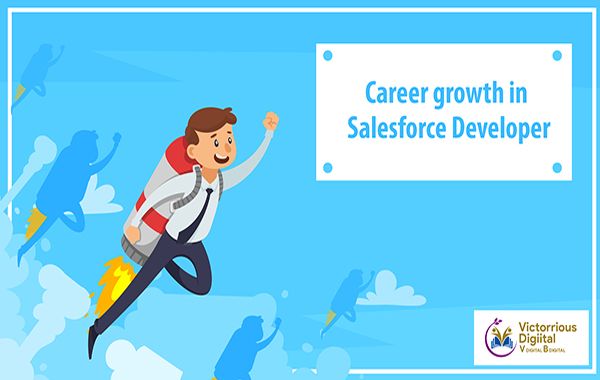 This is not a miracle that from 2017 Salesforce is counted in the top request by professionals and many companies. Yet slowly but progressively companies have started to know the worth of Salesforce. The growth of the salesforce itself is rapidly rising, proportionally the growth rate of Salesforce developers and Salesforce admin is also rising. Demand for providing a better and user interactive platform to the companies for their improved growth in the sales department is on long lined up call.
As per the 2017 annual report, there are 1,50,000+ customers of Salesforce. Also, it has been analyzed that approximately 25 subscribers of Salesforce have each customer.
What is the minimum salary of a Salesforce Developer?
Generalizing the minimum salary of a Salesforce developer has no particular way to define as it varies from the U.S to different countries.
The salary of a Salesforce developer on average in India is Rs. 6,56,334 per year. It is estimated as 351 salaries submitted to Indeed by Salesforce developer, users in the past 36 months.
Major tips for uplifting the growth in the field of Salesforce Developer are:
Supercharge your Profile
Learning never ends. Keeping yourself updated with new technologies and upgrading yourself by doing certifications and earn badges, super badges by doing projects which aren't easy but are possible to show your expertise areas to the professionals to make them hire you easily.
Volunteer to Non-Profits
Many non-profit organizations take the license of Salesforce but don't know the right way to use it and here you come in to showcase your skill and give your hands in to get some experience by a challenge of knowing business needs and providing them Salesforce-based solutions.
Build Custom Applications
Use your developer skill and build custom applications relevant to your need or what you're passionate about. Many professionals are looking for an experienced Salesforce Developer around. These applications will highlight your resume and attract many recruiters to hire you.
Start Freelancing
The dynamic growth in the Salesforce Developer field you can give by starting FREELANCING.
Freelancing is no doubt the best choice to start a career in. You can take several different projects in the count and work from home. This will promote you and helps to build one to one strong network connections.
Want to kick-start your career as Salesforce Developer? If yes, then what to do?
To build a career in the most wanted skills first you have to add this in your resume. The very important thing you need to be called a Salesforce Developer is that a basic knowledge of Object-Oriented Programming language or JAVA is exceptionally useful.
Few more requirements for being a Salesforce Developer:
SFDC (Salesforce) training or SFDC courses
You can easily get the SFDC or Salesforce Developer training and classes in Pune enriched with the complete Salesforce courses by any certified institutes nearby you. In addition to the course, you must keep yourself updated and give attention to every detail which will help you to knock the opportunities very well.
SDFC certification
After the completion of Salesforce Classes in Pune or the preferable area for you, you definitely need a handy certificate as proof for showing that you are well acquainted with every tool in detail and are friendly with the platform.
Acquire Certification
Acquire a certificate by giving an exam of Salesforce Developer and get certified by DEV 401 (a certificate of Salesforce Developer).
Apply for a job
Then apply for a job after the completion of Salesforce Classes in Pune.
Get some experience
Getting a job is no way to stop here. Brush up your skill and get some minimum qualified experience of 1 to 2 years or more than if you wish to of platform App Builder, Platform Developer I and II, and B2C Commerce Developer positions.
Advance and Enhance your skills
A qualified experience helps you to advance you with the new techniques and will enhance your current skills in between the professionals with proper guidance.
Gain more certifications
No doubt by gaining more qualified certificates you will glow your resume but also will get a chance to get your desired job according to your will.
To get some height in the field of Salesforce Developer you just need to follow these steps:
Customize every Job description carefully
Analyze and observe the need for your technical and soft skills according to the need of the relevant task. This will lead to organizing your task in an appropriate manner.
Build and engage in virtual and face-to-face connections
Many Salesforce Developers are excellent in making network connections by gatherings in events, or meetups. This is an inbuilt quality of these folks helps to perform well in the number of people around in an official world.
Keep your hiring budget inline
Learn, get experience professionally to fix the hourly rates depending on local or freelancer developers depending on your needs.
If you are also aiming to be one of the professionals among Salesforce Developer and Programmer so determine yourself and join the best Salesforce classes in Pune with the best practical knowledge and real-time projects to make you the experience and knowledgeable professional to deal with both virtual and real problems efficiently.