In the 21st century advancement in the world of marketing with the evolution of technologies, digital marketing is the future ahead.
No doubt it's a boom for all BBA/MBA students because today's degree is not enough to get a job. Digital marketing courses add a lot more science and analytics in marketing with dynamic methodologies.
3 Reasons why you must go for this course?

1. FUTURE DEMAND AND SCOPE:
More than one-fourth of the population uses the internet & from the past few years, a lot more has changed in the methodology of marketing.
Digital marketing adds up to give fruitful results in marketing like –better interaction, brand building, relationship building, reputation management, customer retention, and conversion, etc. with easy learning.
Digital marketing provides an edge to the organization with many online aptitudes and ways like Social media marketing Email marketing, E-commerce sites, websites & so on with overcoming marketing challenges in the future.
2. FOR ENTREPRENEUR/FREELANCER:
Digital Marketing Bridge the gap of recession-proof by providing you to work from home as a freelancer or you can start your own company by optimizing the websites of promoting products as compared to traditional marketing. You can also start a blog and earn money through ads. via social media & its methodologies.
You can set your business on a low budget with clear information on all products and administration. It is successful & productive & underscores ROI.
3. HIGHER GROWTH RATE:
Industries with B2B, B2C businesses are eagerly looking for professionals with great marketing strategies. Current scenario of social media marketing tactic reported by B2C business increase the average conversion rate by more than 4.8% with 82% videos, 81% website articles, 87% photos on their websites.
Also, 94% of B2B customers use LinkedIn, 87% Twitter, 84% Facebook, 74% YouTube, & 62% Google+ and 72% of marketing strategy rate increased by an effective SEO tactic, with 3 times as many leads by the content marketing costs 62% less than traditional marketing.
"As per the reports of Economic Times- Digital marketing ranks 3rd in the top career choice"
This results in gigantic requests from businesses for internet marketers. A definitive point of interest of most of the businesses out here in the market is to hold DM which acts as a bridge and helps to increase clients from multiple channels.
93% of MBA graduates are unemployable only because of great theoretical knowledge but lack viable learning and practical abilities to apply those theories. MBA courses embedded with the request course of DM will help you to drain more job opportunities with good investment and money offered by digital channels.
AVAILABLE CERTIFICATIONS AFTER DIGITAL MARKETING FOR MBA GRADUATES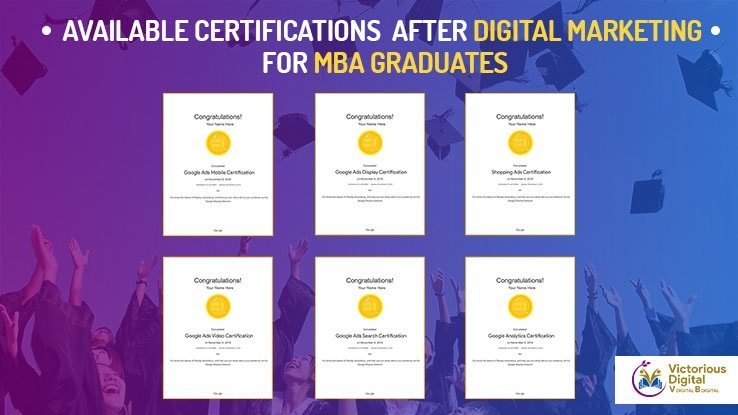 Google Certifications:
Google offers different types of certification exams in the DM domain.
Victorious Digital is providing –
Ads Mobile Certification
Ads Shopping Certification
Ads Search Certification
Ads Display Certification
Ads Video Certification
• Google Analytics Certification
• Google Analytics Individual Qualification(GAIQ)
Definitely, the certificate for Digital Marketing will boost your career after MBA.
CONCLUSION
Some management of B-schools including IIMs are able to
Serve quality educations which aids graduates to grab successful employment. Campus recruitments have gone 45% down. Industrial managers and experts urge digital marketing as one of the most and efficient gateways to fill the cavity between academic with practical knowledge and industry to solve the problem of the market world.
If you have digital marketing skills then at whatever point you'll be placed after MBA then definitely you must be on the upper side. And also you'll be able to set up an automated lead funnel for the conversion of lead orientation, follow-ups by appropriate CRM with optimizing marketing skills.