Every day playing on the internet you can get at least one ad, one post of Digital Marketing. The fastest-growing technology ever, satisfying global business. A pace that landed with 1,50,000+ jobs and by 2020, expected to increase the count. People who are ready to start their business have an advantage in this era with the blessing of Digital Marketing. And people who have already step-in to move their career in Digital Marketing with the Best Digital Marketing Training in Pune know they have vast opportunities.
But the question arises for people who still are deciding to enter in Digital Marketing field. What will be the scope in Digital Marketing? For them, first, they need to know why Digital Marketing?
The world is getting digital. Companies are going online, diverting their routes from traditional marketing and sailing towards digital marketing.
Digital Marketing is directional towards your daily creativeness. Your daily motive ideas to improve your previous marketing skills.
According to the survey, it has grown 10 times faster economy as compared to traditional marketing.
It provides you with multi-job opportunities.
You can easily say goodbye to boredom codings and typical technical studies.
MAJOR ROLES & RESPONSIBILITIES IN DIGITAL MARKETING!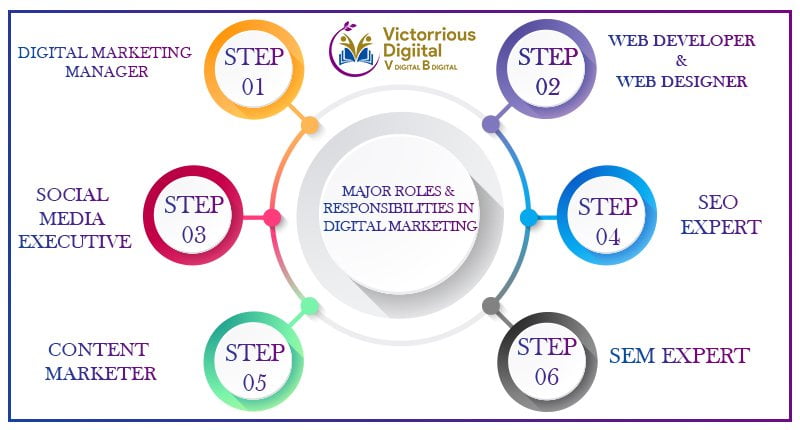 Google has provided various disciplines for Digital Marketing professionals. It has a transverse path one can seek. And, a good thing about this is that every discipline is very important and on-demand. You must first need to educate and acquainted with the best Digital Marketing Training in Pune or any other city you are looking for. The major roles which concatenate together and provide a complete Digital Marketing course are:
DIGITAL MARKETING MANAGER
This is one of the highest positions in the field of Digital Marketing. A professional needs 5-7years of experience to hold this designation. A professional attaining this position has overall control over marketing strategies that will drive more traffic on the website for lead generation.
WEB DEVELOPER & WEB DESIGNER
The amazing professionals behind your amazing websites are Web Developers & Web Designers. Their works are quite similar where Web Designer needs to be up-to-date and make everyday changes to gain audience attraction and where the work of Web Developer remains constant. This responsibility needs a professional who can design a creative, dynamic, user-friendly website. Additional knowledge of computer languages like C, C++, JAVAScript is beneficial to modify the responsibility which is undertaken.
SOCIAL MEDIA EXECUTIVE
Social Media Executive is one of the coolest jobs. It's just not only about tweeting or chatting. Don't get confused! Being a Social Media expert you need to surf at www about new marketing trends, social media plans. So, that you can smoothly coordinate with your creative team. This role also requires lots of creative and relevant imaginative ideas for attractive social media posts to engage a targeted audience.
SEO EXPERT
Amazing website created is of no use until and unless good promotion skills. SEO Executives have the toughest responsibility to let your website comes to the top. Google's ranking factor is some validation rules that need to be followed by SEO Experts as their guidebook. They make sure of advanced tools to enhance the content, get relevant keywords, and build user-friendly sitemaps.
SEM EXPERT
An SEM Expert is the one through which you see an ad of Digital Marketing on your social media platforms like Facebook, Instagram, YouTube, Twitter, Whatsapp, LinkedIn. It may contain video ads, static or dynamic ads, Offers, sponsors, skippable or non-skippable ads. Their work is to gain leads. Also, they need to split and manage PPC (Pay Per Click) costs and suggest alluring market methods to get more and more traffic.
CONTENT MARKETER
Coming to Content Marketer. This job doesn't suit every Digital Marketing Professionals. Because not everyone is an expert in expressing their words through writing. Content Marketing is in high demand. One who loves writing must admire and go for this role. Content writer has a focused responsibility to write technical or non-technical content for a website that must answer a reader's queries and doubts as well. Good English with SEO tactics is a must required in this role. It has a vast scope in the pace of Digital Marketing.
There are a few other roles one can dive into.
➔ ANALYTICS MANAGER
➔ CRM MANAGER
➔ EMAIL MARKETING MANAGER
As per the companies requirements and your will, a single route in digital marketing under the best Digital Marketing Courses in Pune can take you ahead.
SALARY EXPECTATION
The most anticipated and anxious query an aspirant can have. Likewise, this Digital World is growing likewise it is creating multiple job opportunities in its footprints.
By an average study and research the answer gives the following data:
Salary of Digital Marketer ranges to 4L-18L
Salary of SEM Expert may vary from 2.5L-6L
The salary expectation of an SEO Expert is approx 2.5L
Salary of Social Media Expert ranges from 1.5L-3.5L
Salary of Web Developer is approx 3.5L and above
& Simultaneously, the Salary of Content Writer ranges from 2L-4L
The best thing about Digital Marketing is that you are not bound to work in an office. Set your home or a convenient location with proper internet range is enough to work with. This above-average salary can get a hike with your creative and smart work.
HOW ONE CAN START?
A very good answer to this question is the best Digital Marketing Course in Pune or any other city you want to go to. Digital Marketing course helps you to provide the pace to stand out in the crowd. It's a ladder to reach the pinnacle of e-commerce. It holds every career may be medical, IT, healthcare, business, or from others. Every field needs Digital Marketing to increase guest insights, increase traffic and generate leads. Practical knowledge of digital media is so essential that now, it got added as a subject in MBA.
By gaining experience one can create their own Digital Marketing Plan. So, don't wait for an opportunity either you can create one. You can become the next hero of Digital Marketing with the Best Digital Marketing Course in Pune.